Community order in Chorley double death crash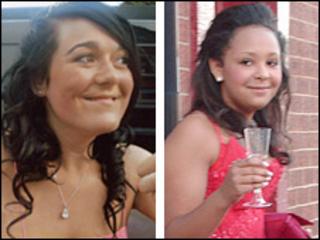 A Lancashire man who admitted careless driving in a crash that killed two teenagers has been given a community order and two-year driving ban.
Jordan Clayton, 20, from Chorley, was ordered to do 150 hours community service at Bolton Crown Court.
Jade Pickering and Tia Guye, both aged 16, died in hospital after the crash in Bolton involving Clayton's Ford Focus and a coach on the A6 Blackrod bypass.
The girls had been passengers in the car on 13 September 2009.
Jade died hours after the crash at Royal Bolton Hospital and Tia died the following day.
'Untimely death'
No-one on the coach was injured in the collision, which happened at the junction of the A6 and Station Road which has a no-right turn restriction.
Police said Clayton turned right into the path of the oncoming coach.
Sgt Mark Thomas said: "This is a tragic case that has resulted in the untimely death of two young girls.
"Clayton now has to live with the knowledge of what he has done for the rest of his life.
"This case demonstrates the life changing consequences that can happen as a result of careless driving," he added.
Clayton was also ordered to take an extended driving test when his ban expires.