Preston 'treading water' since becoming city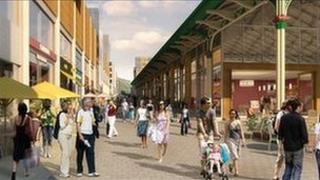 Preston has not moved forward since it was awarded city status a decade ago, its council leader says.
Peter Rankin said reliance on the collapsed Tithebarn shopping scheme meant other developments had not gone ahead.
He said the city had been "treading water" but added the council was now doing its best to regenerate it.
"This is the time a lot of investors and developers look to invest, when the market is at its lowest," he said.
The planned £700m Tithebarn regeneration scheme, which would have seen new shopping and leisure facilities and a new bus station built in the city centre, was abandoned in November 2011, after department store John Lewis pulled out.
Mr Rankin said the project had been the "panacea" which had "required a huge amount of planning".
He said, as a result, the city centre had not "moved forward in the way the council expected" and had "missed out on the opportunities that both Manchester and Liverpool gained at a time of plenty".
"We can always say what would have been if, but we are where we are and we have to work with that," he said.
However, he said he was positive about the city's future and said the council were approaching investors to try and bring them to Preston.
"We know what we need to do, we need to concentrate on the leisure side - that's what people want in Preston city centre," he said.
"We need a cinema, we need restaurants, we need a cultural offer - we can't stand back and hope something will happen.
"We have to make things happen and that is what the council is going to be doing over the next few months."