Blackpool's Donna's Dream House re-opens after fire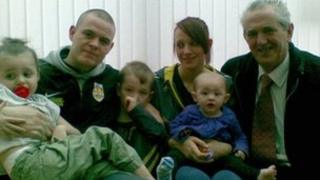 A Blackpool holiday home for terminally ill children has reopened three months after a devastating fire.
Burglars broke into Donna's Dream House in December, and set fire to log cabins causing damage put at £80,000.
After support from the local community, the charity has welcomed its first family and is aiming to be fully operational by the end of the month.
Len Curtis, who set up the house in memory of his daughter, said: "We've turned a massive corner."
He added: "We were devastated and didn't think there was any chance - mentally - of restoring it," he said. "As a family we just didn't see that we could carry on."
"Then we found a little red box underneath all the ashes with Donna's very, very private memories in, totally untouched, and that was the sign for us that we had to carry on."
Heather Beswick, the mother of the first family to stay in the newly-renovated home, said it was "really important just spending quality time together as a family".
Last year Donna's Dream House hosted 1,600 families but was forced to close for Christmas after the fire destroyed the office, hot tubs and a sauna at the site.
A milkman spotted smoke coming from the courtyard on Chapel Street and alerted the fire service.
Mr Curtis said he would have "lost absolutely everything" if the fire had not been spotted.
"We've still got a long way to go but at least now we're up and running," he said.