Proposals for £100m revamp of Lancaster city centre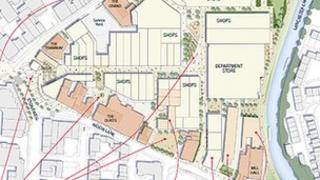 Developers in Lancaster have released revised proposals for a £100m development of the city centre.
A previous £150m proposal by Centros for the canal corridor north site was rejected following a public inquiry in 2009.
Supporters of the previous proposal said it would revitalise Lancaster's retail economy. Opponents said it would ruin the city's character.
The revised plan includes a department store, shops, cafes and restaurants.
Another change is the removal of a proposed footbridge over Stonewell, which was a contentious feature of the original plan.
The plans, which could lead to 750 new jobs, have been drawn up in consultation with the both the city council and English Heritage.
Centros director David Lewis said: "These revised proposals build on many of the positive components of the last scheme that were endorsed by the Secretary of State - while creatively integrating more of the existing buildings, including the now listed brewery, bringing them back into vibrant use.
"Once legal formalities are concluded, we will be in a position to prepare a new planning application. In the meantime, we intend to continue our engagement with both statutory consultees and local stakeholders, as well as the public."
It is anticipated that a new planning application will be submitted at the end of the year and if successful the scheme could be completed by late 2016 or early 2017.