Graham Liver in Sport Relief charity tandem ride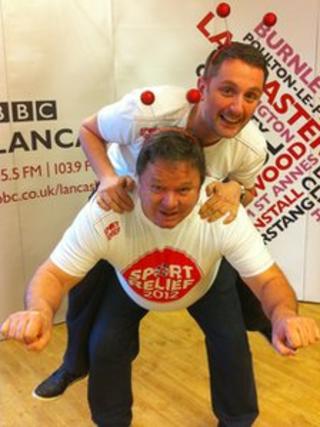 A BBC presenter has set off on a tandem ride from London to Preston to raise money for Sport Relief.
BBC Radio Lancashire's Graham Liver aims to pedal more than 50 miles every day to arrive in the city by Friday.
The tandem's second saddle will be taken by a variety of celebrities, including comedian Ted Robbins and former footballer Kevin Gallagher.
Mr Liver said the journey would be a challenge because riding the two person bicycle was "harder than you think".
The radio host, who is hoping to raise £5,000 from the ride, will set off from London's Olympic Stadium and call in at Oxford, Coventry and Stoke before arriving at Preston Guild on Friday in time for the beginning of the Sport Relief weekend.
He said he had "done other challenges for charity but nothing quite like this".
"Riding on a tandem is harder than you think," he said.
"Ted and I have had a few practice runs and you have to be in sync, otherwise it's easy to fall off.
"We've got the hang of it now and are raring to go - I just hope the weather is kind to us over the next five days, but even if it rains, at least we know we're doing this for a really great cause."
Other Sport Relief events are being held across the country from Friday to Sunday.