Blackburn Diocese Mothers' Union hold Taste of Africa event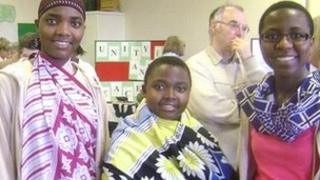 The Blackburn Diocese Mothers' Union have stepped up their campaign to help impoverished countries in Africa.
The group, which is one of the largest Mothers' Unions in the world, has prayer and aid links with Ghana, South Africa, Nigeria and Rwanda.
Members of the union held a celebration and awareness event at St Margaret's Church in Ingol to highlight their links with the continent.
They are also urging more people to get involved.
Parnal Rothwell, Diocesan secretary for the Mothers' Union, said: "It's a taste of Africa, not just food but also information about our links. We are saying, come and learn about what we do."
Speaking amongst the displays of African life, Mrs Rothwell spoke about a visit to the link diocese in the South African Free State.
She said: "Their leaders asked me to draw up a business plan. We were in a huge church and they thought they would like to provide a pencil. Not a packet of pencils, but one pencil for their local school, which would cost us under £1 here.
"I did the business plan thinking it would be a waste of time, but when they read it they thought they might just be able to raise enough money for the one pencil."
Mothers' Union Worldwide section leader Elizabeth Swarbrick, from Garstang, praised the work she had seen from the Mothers' Union.
'Girl power'
She said: "I was in Uganda and saw the amazing things the Mothers Union does. I see it as girl power for the mature woman. People think they just make tea, but they do wonderful things."
MJ from Nigeria was busy offering hair braiding demonstrations at A Taste of Africa.
MJ is currently studying at Lancaster University.
"I am really happy that people here want to celebrate our culture and they really want to experience it from our point of view," she said.
The big crowd was entertained by a trio of singers from the Bethany Project in Tanzania which has strong links with east Lancashire.
Emma, Sophia and Jessica are living in Accrington and studying for an education degree in Blackburn. Emma said: "We are looking forward to going back home because we can go back to help and improve our country."
Elizabeth Swarbrick summed up what the Mothers' Union were saying to Lancashire through their Taste of Africa.
She said: "There are things we have to give and there is so much we have to learn from other places.
"We should celebrate the fact that we are all in this together. It doesn't matter where we are, who we are or why we are. We are all in this together, in the human race, doing our bit, trying to make the world a better place."
Joe Wilson presents the faith programme on BBC Radio Lancashire from 06:00 each Sunday.