Silentnight creates 140 new jobs in Barnoldswick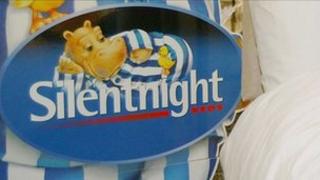 A total of 140 new jobs are being created with the expansion of the Silentnight bed factory in Lancashire.
The firm is expanding its site in Barnoldswick after Lancashire County Council agreed a £1m investment package to boost the area's economy.
Hundreds of existing jobs have also been secured by the agreement.
It announced in January it was closing its site in Batley, West Yorkshire, which employs 200 people, and moving production to Barnoldswick.
Silentnight has already begun taking on new workers in Lancashire.
Adrian Fawcett, Chairman of Silentnight Group Limited, said: "I am extremely grateful for the support offered to Silentnight by Lancashire County Council, which has helped us invest in new roles and secure what will be approaching 500 manufacturing-related jobs here in Barnoldswick.
"This helps us increase the capacity of the site, allowing us to produce additional ranges of products."
Geoff Driver, leader of the county council, said: "This is excellent news for everyone associated with the factory including the workers, their families and the small businesses that benefit from the factory's presence in the town.
"The manufacturing industry remains vital to the Lancashire economy and will continue to for a long time with big name brands like Silentnight expanding here, even when the economic climate is tough."
Silentnight was founded in 1946 and supplies about 500,000 beds a year to retailers.