Man found injured in Penwortham in road 'hit by passing car'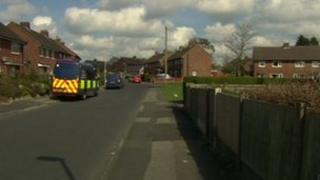 A man found lying in a Lancashire road with serious injuries may have fallen and been hit by a passing car, police have said.
Rob McDonnell, 29, was found in Martinsfield Road in Penwortham at about 22:40 BST on Saturday. He was taken to hospital but later died.
A post-mortem examination showed he died from severe chest injuries.
The male driver of a silver Vauxhall Corsa who stopped at the scene has been interviewed but was not arrested.
Police said Mr McDonnell, from Penwortham, was last seen at about 22:00 BST.
Officers are appealing to anyone who saw him after he left the Sumpter Horse pub on Leyland Road.
They are especially keen to speak to any groups of young people who may have been out and about around the Martinsfield Road area at that time.
Mr McDonnell was wearing black cargo pants, black trainers, a blue top and a navy blue padded jacket when he was found.
Det Supt Ian Critchley, who is leading the investigation, said: "Although we still aren't entirely sure of the exact circumstances, at this stage it would appear that Mr McDonnell may have fallen into the road and been hit by a passing car."