Darwen Jubilee Tower new dome is vandalised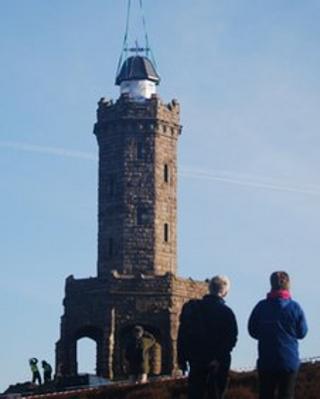 A Lancashire landmark's £35,000 replacement dome has been attacked by vandals weeks after it was lowered into place by helicopter.
The windows of the dome on Darwen's Jubilee Tower were scratched with screwdrivers and written on with pens.
Chris Mercer, from engineering company WEC Group Ltd, said the damage had "made an absolute mess" of the dome, which the firm had gifted to the town.
The previous dome was blown off by high winds in November 2010.
Apprentices at WEC Group made its replacement as part of a training project.
It was winched into place by a helicopter in January.
'Criminal damage'
Mr Mercer said: "They are polycarbonate windows so they have been able to scribe on them.
"They obviously had intent. It's a long way up the hill to take screwdrivers and felt tip pens.
"It is criminal damage and there was such effort made by all the apprentices.
"They'd done an amazing job and in just a few weeks it's all been abused."
The new top is the third to crown the Grade II listed tower which was built in 1897 to commemorate Queen Victoria's diamond jubilee.
The original, made from wood, also blew off in 1947.
It was eventually replaced a fibreglass dome after Darwen mayor Bill Lees launched a fund in 1971.