No police officer sent after Lancashire break-in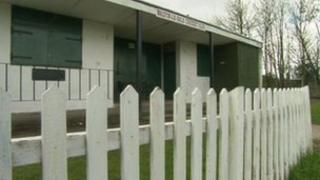 The chairman of a Lancashire cricket club has said he was "amazed" police did not send an officer to a break-in at the team's clubhouse.
Mike Inkley, from Walton-le-Dale Cricket Club, said he was directed to a call centre to give a statement.
Lancashire Police said they now handle "minor crime" by telephone as part of savings of over £43m.
The force said that a victim of crime would always be seen by an officer if they requested it.
The club confirmed nothing was stolen during the break-in, but a steel door was kicked from its hinges and cricket equipment was left scattered in the building.
Mr Inkley said: "The first thing I did was to call the police and I expected that an officer would call out to see us, we have a community police officer for this area.
"I was told there was a telephone call centre which would take a statement but nobody would turn up.
"I think a big chunk of what the police do is all about reassuring the public and being told someone will ring you in the next few days to take a statement doesn't do that."
'Victim of crime'
A police spokesman said "every aspect of the organisation" has been subject to a review in a bid to make savings of £43m over four years.
One of these changes was the introduction of a Telephone Investigation Unit (TIU) to manage minor crime.
He said: "Where further investigation is needed, the incident will be passed to a local officer who will make an appointment to attend the address and where a victim is insistent that they want to see an officer then one will attend.
"In relation to the break in at the cricket club, initially the victim was told that we would not be able to attend but that is not the case. If a victim of crime wants us to deploy to the scene then we will."