Fred Dell gets free beer for life in Fleetwood pub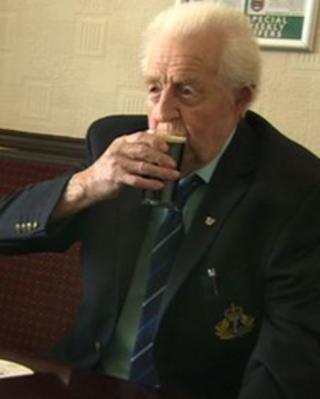 A man from Lancashire has been offered free beer for life at the pub where he has been a regular for 76 years.
Fred Dell, 94, has been popping round to the Strawberry Gardens on Poulton Road in Fleetwood for a "swift half of mild", since he was 18.
Landlord Dave Shaw has now made Mr Dell, a retired gardener, a freeman of the pub, in recognition of his loyalty.
"I decided it would be nice and he's worth it," he said. "He's a great guy, he's very fit."
Remembering his first pint in 1936, Mr Dell said: "You could get half a mild, five Woodbines and a box of matches and a penny change for half a sixpence.
"Nowadays for my first drink, I'll get half a mild and a whisky, and then after that I'll have just whisky, they're only wee things so I'll have about eight."
The bachelor puts his longevity down to his outdoor life working as a gardener around Fleetwood.
He also served in the navy during World War II.