Rossall School remembers Titanic hero Father Thomas Byles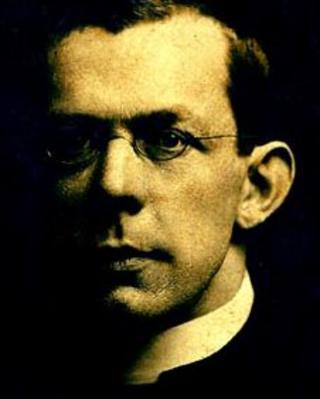 A memorial plaque has been unveiled at a Lancashire school to honour a former pupil who sacrificed his life to help minister to those left on the Titanic.
Father Thomas Byles had attended Rossall School, Fleetwood, in the 1880s before becoming a Catholic priest.
He said prayers with fellow passengers on the stern of the ship moments before it sank in April 1912.
The Roman Catholic Bishop of Lancaster, the Right Reverend Michael Campbell, conducted the memorial service.
A model pupil, who excelled at mathematics, Byles won the school's mathematics prize for three consecutive years and gained a scholarship to Balliol College, Oxford.
Comfort and encouragement
He spent two years in Rome before being ordained in 1904 and became a parish priest in Essex.
He left Southampton on the Titanic to attend the wedding of his younger brother, William, in New York.
Father Byles had performed mass for second and third class passengers on board the ship, most notably on the morning of the tragedy, when his sermon alluded to prayers and sacraments being spiritual lifeboats when in danger from the spiritual shipwreck of temptation.
He was on deck when the iceberg struck and headed to the ship's third class decks to calm passengers and hear confessions before leading people to the lifeboats.
One survivor, Helen Mary Mocklare, remembered his words of comfort and encouragement.
"Father Byles could have been saved, but wouldn't leave while one person was left onboard," she said.
"As I left in the last lifeboat I could hear distinctly the voice of the priest and the responses to his prayers."