Lancaster's Dukes Theatre to stage outdoor plays again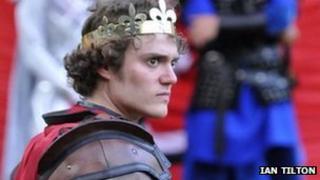 A Lancashire theatre is to stage promenade plays again next summer, only a year after announcing they would be coming to an end.
Lancaster's Dukes Theatre said the outdoor shows in Williamson Park will return in 2013.
Last year, the theatre said the plays would be ending for the "foreseeable future" due to funding cuts.
Last summer's production of Merlin marked 25 years of the park plays and attracted an audience of almost 18,000.
The theatre has been through a period of upheaval since the Arts Council cut its grant by 50% in 2008.
Dukes director Joe Sumsion said the company had lost around £100,000 of grants last year.
"Last summer we said Merlin would be our last outdoor walkabout theatre show for the foreseeable future," he said.
"Since then, we have been overwhelmed by the positive response to our park shows from the public and artistic community which we've had at the forefront of our mind when planning for the future."
The Dukes, which is a registered charity, receives core funding from the Arts Council England, Lancashire County Council and Lancaster City Council.
Lord of the Rings star Andy Serkis was among the cast when the Dukes staged its first open-air play in 1987.