Free school meal changes welcomed by Blackburn Diocese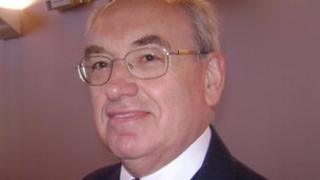 The Blackburn Diocese has welcomed a report calling for changes to the way free school meals are provided.
The report from the Children's Society urges the government to extend free meals to children from families receiving the new universal credit.
It also calls for a cashless payment system to stop children being vilified.
The acting head of education at the Blackburn Diocese, Fred Kershaw, said it is important that any struggling families are able to receive this help.
He told BBC Radio Lancashire: "It is a proven fact that those children who eat well learn well."
Benefit cliff-edge
From next year a range of benefits will be absorbed into a single Universal Credit. That would remove specific low-income payments that automatically entitle children to free school meals.
Children whose parents are working 16 hours or more are not eligible for free school meals.
According to the Children's Society, the changes could create a benefit cliff-edge that could see many families worse off if they work longer or earn more.
The Children's Society's campaign for childhood director, Elaine Hindal, wants the introduction of a system that would make free school meals more widely available.
"This would be in line with the government's aim to make work pay by paving the way for many families to return to employment and help lift them out of poverty," she said.
The Archbishop of York, Dr John Sentamu, has recommended to the government that the report be implemented in full.
The government said it is determined to ensure no needy child misses out and that people are always better off in work than on welfare.
Mr Kershaw believes the increase in free school meals would be a legitimate cost to be borne by the tax payer.
Good record
He said: "It's not the best of times to be looking for extra money, but if we are looking to the future, then the young people who are in our schools at the moment have to have the best possible chance of achieving what the government are looking for to help us become a successful nation."
He also wants the introduction of a cashless system where no child can be seen not to be paying for their meals.
Mr Kershaw said: "There is a stigma in some schools for children who don't pay for their meals.
"In a cashless system, which many of secondary schools have, pupils receive a credit card which is wiped to buy their meals. Everyone has a card and there is no discrimination or distinction."
Mr Kershaw said the faith schools in Lancashire operated by the Church of England have a very good record which these measures would help to improve.
"Our schools are at the forefront of delivering excellent education and a well rounded holistic approach to a young persons' education," he said. "Providing the right meals means that healthy children are active children and they will learn quite quickly."
Joe Wilson presents the faith programme on BBC Radio Lancashire from 06:00 each Sunday.