Fire in Lancaster warehouse now 'under control'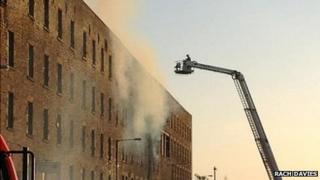 Fire crews have brought a blaze at a five-storey warehouse in Lancaster "under control".
Lancashire Fire Service sent nine engines to St George's Quay after the blaze broke out at about 19:00 BST.
Spokesman John Taylor said the third and fourth floors of the building had been "well alight" but that crews had the fire in hand.
"We will be working for some hours and it will a case of dampening it down overnight," he said.
Mr Taylor said there were "no obvious flames coming from the building, but there is black smoke still billowing out of it".
He said the area surrounding the "derelict looking" building had been cordoned off for the safety of the public.