Blackpool FC fans head to Wembley for play-off final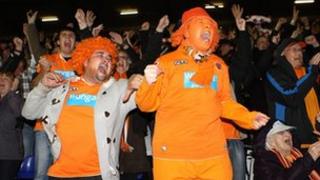 Thirty thousand Blackpool FC fans are heading to Wembley for the play-off final for promotion to the Premier League.
Blackpool take on Sam Allardyce's West Ham side at 15:00 BST on Saturday.
Both Blackpool and West Ham are aiming to return to the top flight after being relegated in 2011.
Glenn Bowley, chairman of the Blackpool FC Supporters Association, said the play-off final was a "very special occasion".
'Everything to gain'
Mr Bowley said: "We're extremely proud of their achievements so far; getting to Wembley for the third time in five years and the second time in three years to get to the final to be promoted to the Premier League is absolutely fantastic."
Lifelong Blackpool supporter Andy Wiggans, from Lytham, said: "It will be incredible.
"I am confident despite being very nervous - I think West Ham have everything to lose and we have everything to gain.
"What Blackpool fans went through two years ago at Cardiff - the whole emotions of the day, being the underdogs, the heat in that stadium, the Charlie Adams free-kick, the celebrations at the end - they are memories that are in your life forever and can never be taken away.
"Hopefully we can do the same again."
'Day to remember'
Blackpool manager Ian Holloway said he wants to reward the fans loyalty with a place in the Premier League.
He said: "I want to give them one more day to remember. I want to try and get back what we all cherish because it means so much to them; it means so much to the area."
And he heaped praise on his team. "I just can't tell you how proud I am. How lucky am I? They're absolutely fantastic."
West Ham have beaten Blackpool in both Championship games this season - 4-0 at Upton Park in October and 4-1 at Bloomfield Road in February.