Pendle Council Conservative-Lib Dem deal brings new leader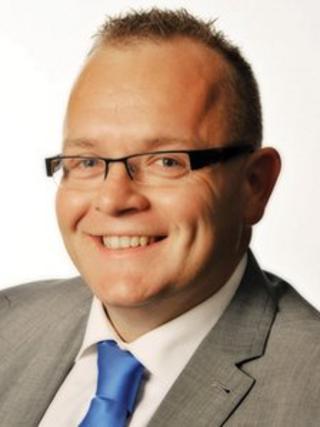 The new leader of Pendle Council has said he is "looking forward to the challenge" just 12 months after becoming a councillor.
Conservative Joe Cooney has taken over after previous leader Mike Blomeley stood down and his party struck a deal with the Liberal Democrats.
There was no party in overall control of the council following the local elections on 2 May.
The deal was made in time for Thursday's Annual General Meeting.
The Conservatives and Labour both held 18 seats. Labour was unable to reach a deal with the Lib Dems who instead chose to work with the Conservatives.
The council was run by the Conservatives last year.
Mr Cooney said: "It's not a coalition - it is a shared executive.
"We agreed to put aside our differences and work together on 11 shared objectives for the good of the people of Pendle."
He said he was "extremely proud" to be at the helm of the council.
"It's quite a change just 12 months after becoming a councillor but I am really looking forward to the challenge."
Lib Dem group leader John David will be the council's deputy leader and there will be four Lib Dems in the cabinet of 10.