Lancashire cancer girl's mother diagnosed with disease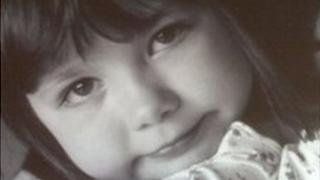 The mother of a seven-year-old Lancashire girl who died of a rare form of cancer has also been diagnosed with the disease.
Madison Allan, from Lower Darwen, died in December from neuroblastoma. She was diagnosed with it at 10 months old.
Samantha Allan, 36, found a lump on her leg weeks after her daughter's funeral.
Her mother Alison Foster said a biopsy confirmed she had sarcoma. "We'd just lost Madison and we needed to get on with our lives - then this."
'Extra 16 months'
An appeal raised £150,000 to pay for innovative treatment for Madison in Germany after medics in the UK said they could not offer her any more treatment in 2010.
She was given a trial of chemotherapy at Clinical Centre at the University of Greifswald which reduced the tumour which had wrapped itself around main blood vessels.
When Madison died her family said they were so grateful to supporters of the appeal because it gave them an extra 16 months with her.
Ms Foster said sarcoma, a type of bone and connective tissue cancer, is not related to neuroblastoma which affects children.
She said: "[Samantha] had been busy with Madison back and forth to the hospital and when Maddi passed she was busy arranging the funeral," she said.
"After a funeral you sit around a lot drinking tea and she noticed that she had a lump at the front of her thigh.
"Obviously she's frightened, she watched her daughter go through it for six years so she knows what is to come and what is going to happen.
"Nobody ever thinks they will get cancer."
Ms Foster said her daughter is continuing to work for the Maddi's Butterflies charity which the family set up to help other children who have cancer and their families.
She said: "This is what is keeping Samantha focused, keeping Madison's memory alive and helping other children and families that are going through this."