Blackpool school sells famous Captain of the Eleven painting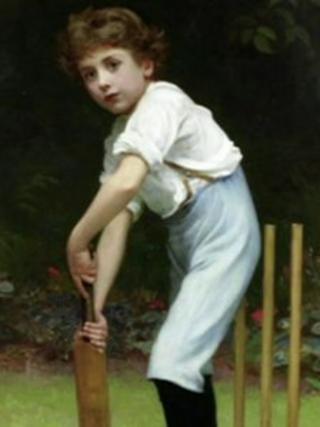 A school in Blackpool is selling a well-known painting estimated to be worth up to £150,000 to raise money.
Thames Primary School will auction Captain of the Eleven, made famous when it featured in the 1898 Pears Annual. It was donated by an ex-governor.
Head teacher Tracey Harrison said the sale of Philip Calderon's painting will enable "valuable" investments.
"It will be spent on resources and facilities for all our children to benefit from," she said.
The painting of a Victorian boy playing cricket will be sold by auctioneers Bonhams on 11 July.
Ms Harrison said: "We do need to update our building to bring it into the 21st Century.
"Because it was a gift we decided the money would be better spent on children for the here and now and the future."
A reproduction of the painting will hang where the original used to be displayed with a plaque commemorating the gift to the school by then Councillor W D Hallstead, who made the donation in 1926.