Ribble Estuary cockling resumption delayed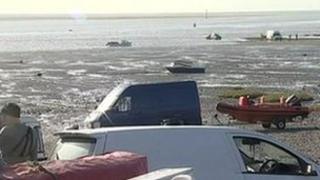 The resumption of cockling in the Ribble Estuary has been delayed.
A date of 18 June had been proposed. Approved plans to tighten safety regulations now go to consultation.
At the North West Inshore Fisheries and Conservation Authority's AGM, a trial opening of the Foulnaze Bank beds in late July or early August was agreed.
The cockle beds were closed in November after 26 coastguard rescues of ill-equipped and unlicensed boats in two months in a cockle "gold-rush".
The fisheries authority is proposing a £500 permit charge for cocklers using boats plus stricter regulations on the sale of cockles whereby sellers must show documentation.
The plans will undergo a consultation period before being sent for approval to the Department for Environment, Food and Rural Affairs (Defra).
'Punishing local fisherman'
Dr Stephen Atkins, chief executive of North West Inshore Fisheries and Conservation Authority, which is in charge of controlling fisheries, said: "We've got to make sure people have properly robust permits, that they've shown us that they've got the qualifications."
Fisherman Christian Peet, from Southport, said he and fellow fisherman were not happy by the £500 charge for permits put forward at the AGM.
He agreed the permit scheme needed to change, but said he felt the authority was "cashing in" and "punishing local fisherman" with the levy.
"There was no charge for permits last year and there is very little money in the job as it is for a full-time fisherman without having to fork out £500," he said.
"There is no guarantee there will be cockles - all the cockles could be gone after a couple of weeks.
He added: "In theory having stricter controls on permits is great as long as it is professional fisherman who get them because last year hardly any full-time fisherman got them."