£4m investment for Royal Lancaster Infirmary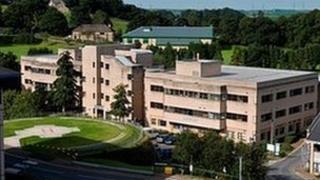 A hospital trust in north Lancashire has announced plans to invest £4m at the Royal Lancaster Infirmary (RLI).
University Hospitals of Morecambe Bay NHS Foundation Trust (UHMBT) will replace wards which date back to 1893 and are no longer fit for purpose.
The plans involve constructing a two-floor temporary unit on the hospital site that will house four wards and act as an Acute Medicine Unit.
The trust has been ordered to make changes by health watchdogs.
Half of the new unit will house inpatient beds and half will focus on the assessment of medical patients and those who require a short stay in hospital.
The new wards will be in place for 12 to 24 months while the trust works with patients, the public, staff and clinical commissioning groups to plan the future of services at the RLI.
The trust said the location of the new unit would mean quicker access to diagnostic services and less time spent travelling between medical wards.
'Let patients down'
Paul Grout, acute medicine divisional clinical director, said: "The placement of the assessment and short-stay patients together is something that the Royal College of Physicians recommends as everything is in one place so doctors and nurses can work more efficiently together to assess patients and make the appropriate clinical decisions faster.
"This temporary unit will also offer patients a brighter and more modern environment and allow us to review patient pathways, improve efficiency and flow though the hospital and, most importantly, get patients back home quicker."
Ground work is due to start at the end of the month with the new unit being operational by the end of the year.
The trust runs the Furness and Westmorland General hospitals, the Royal Lancaster Infirmary and Queen Victoria Hospital in Morecambe.
Deaths at the baby unit at Furness General Hospital, in Barrow, are being investigated by police and health regulators have criticised standards at Royal Lancaster Infirmary' s A&E unit.
Interim chief executive Eric Morton admitted the trust had previously "let patients down", but added that it was "intent on putting this right".