Queen's Birthday Honours: MBEs for Darwen foster carers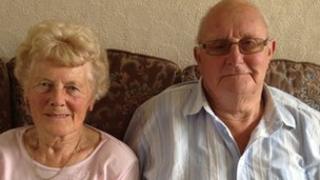 A married couple from Lancashire, who have fostered 200 children, have both been appointed MBE in the Queen's Birthday Honours list.
Fred and Audrey Wearing, from Darwen, have been foster carers for more than 40 years and keep in touch with many of the children they have fostered.
The couple have one child of their own and have adopted six others.
Mrs Wearing said the honour was "wonderful" adding: "It's been a real pleasure to look after these children".
"It's been challenging sometimes, but we've never had any regrets," she said.
Other Lancastrians who have been honoured include Carole Cochrane, from the Princess Royal Trust for Carers, who was appointed CBE for services to family carers.
There are OBEs for Dr Alison Jane Birkinshaw and Peter James Garrod for services to further education; Kathleen Paintin for services to special needs education; Philip Eraclis Papard from the Health and Safety Executive and Professor Iqbal Singh for services to the NHS.
Back into work
Blackpool singer and entertainer, Joe Longthorne, has been appointed MBE for charitable services.
Nelson doctor, Dr Narendra Singh, was appointed MBE for services to the community. Dr Singh, a GP for 46 years, has helped dozens of patients, who were previously claiming benefits, get back into work.
Simon Woodvine, from Fleetwood, who set up a helpline for male victims of rape and sexual abuse, is also appointed MBE.
Derek Ashcroft, JP, has been appointed MBE for services to the community in Skelmersdale, as well as Jenna Bailey for services to skills and Stephen Bennett for services to young people and youth employment.
There are also MBEs for Keith Brandwood from Blackburn College for services to further education and Dr Venkataswamy Narayana from Burnley for services to general practice.
Andrea Marie Bradbury and Dr Jeremy Evans have both been appointed MBE for services to policing.
BBC Radio Lancashire presenter Martin James is appointed MBE for voluntary service to angling, conservation and to charity.
Other people to be appointed MBE are Margaret Lund for services to education and to the community in Fleetwood; Leyland playgroup leader Jennifer Anne McMahon; Ernest Tomlinson for services to music and Peter Harry Jackson and Antony Charles Smart for charitable services.
Paul Kenneth Richardson, deputy chief Fire Officer from Lancashire Fire and Rescue Service, is awarded the Queen's Fire Service Medal.
The 2012 Birthday Honours list sees the re-introduction of the British Empire Medal, with recipients including Miriam Catherine Rosen, former Ofsted chief inspector, for services to education.