Blackpool seafront concerts 'will continue'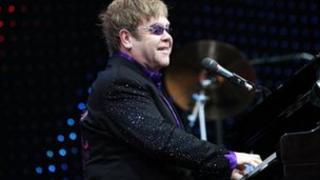 Summer concerts at a new outdoor arena on Blackpool seafront will go ahead as planned despite the weather forcing Sir Elton John to cut short a concert on Saturday, organisers have said.
The inaugural concert on Blackpool's Tower Festival Headland finished about half an hour early because of the threat of strong winds.
Sir Elton apologised to the crowd and said he would "make it up" to them.
A spokesperson for the venue said safety was "paramount".
She said the decision to stop the concert was not taken lightly but "local police and fire chiefs were in full agreement regarding the decision to halt the concert".
Sir Elton was the first artist to perform at the new venue in front of about 12,000 people.
During the final few songs of the set, weather conditions rapidly deteriorated and wind speeds increased.
The production director, Andy Cheeseman, said other concerts "will definitely go ahead".
"It's a great space to work in. Hopefully Elton will come back and do another concert," he said.
Myfly, The Wanted and John Barrowman are all due to appear at the venue in the coming weeks.