Scott Sutcliffe jailed over double death crash in Anchorsholme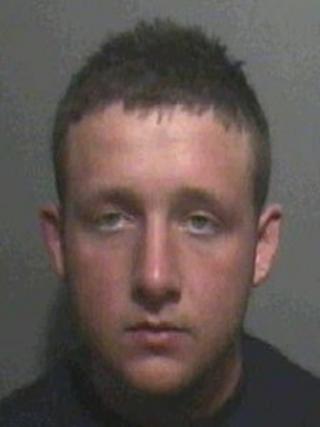 A man who admitted dangerous driving following the death of two of his passengers has been jailed for almost four years at Preston Crown Court.
Scott Sutcliffe, 21, from Skitham Lane, Pilling, was driving a five-seat MG Rover with six passengers on 7 June 2011 when the vehicle hit a brick wall.
The crash, which happened on Fleetwood Road, Anchorsholme killed Nathan Weston, 23, and Roseanna Cooper, 21.
Lancashire Police described the vehicle as "dangerously overloaded".
Officers said four passengers were sat in the back of the vehicle, with Mr Weston sustaining fatal injuries in the crash which happened at 05:45 BST.
Ms Cooper, who was lying across those sat on the back seat, died at the scene.
'Devastating consequences'
Mr Weston's family said they were "devastated at the loss of a son, brother and best friend" and described him as a "gentle and warm person".
PC Steven Fitzer said: "The maximum capacity for Sutcliffe's car was five people, but he had allowed two extra people to squeeze in to the vehicle.
"As the group travelled through Anchorsholme, someone made a call for a stop at a garage and Sutcliffe made a last minute decision to take a turn, which caused him to lose control and crash into the wall.
"That decision had devastating consequences and sadly two young people have lost their lives."
Sutcliffe pleaded guilty to two counts of death by dangerous driving at an earlier hearing.
He also received a six year driving ban.