Crackdown on cannabis growing in West Lancashire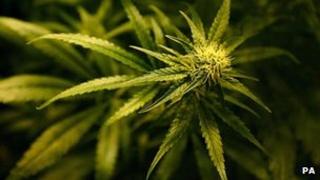 Cannabis growers are being targeted by police, emergency services and the council in West Lancashire.
The Cannabis Cultivation Action Group has been set up after 87 properties were found to have had cannabis growing in them in the borough since 2010.
Police believe people are being paid or coerced into giving over their property or rooms to grow the drug.
The action group is urging people to pass on information about suspected growers to police or Crimestoppers.
Chief Inspector Kevin Boyce said the support of the public was "essential and anyone with suspicions of this type of crime in their neighbourhoods should report them immediately to the police".
People are being advised to look out for signs including the distinctive smell of cannabis, curtains or blinds being permanently drawn and different people visiting the property at strange times of the day and night.
The group is creating a guide for private landlords to give them information on signs the property might be being used to grow cannabis and powers they have to evict tenants growing it.
It is also warning of the fire risks in involved as some growers bypass electricity meters, making unsafe and illegal connections to the electricity network to steal power for lamps and growing equipment.
John Cairns of Lancashire Fire and Rescue Service, said: "The illegal cultivation of cannabis in people's homes is commonly associated with the tampering of electrical supplies.
"This is extremely dangerous and along with the extra lighting required for the propagation dramatically increases the risk of fire and can put people's lives at risk."