Robert Thomas' Mother and Child to return to Blackburn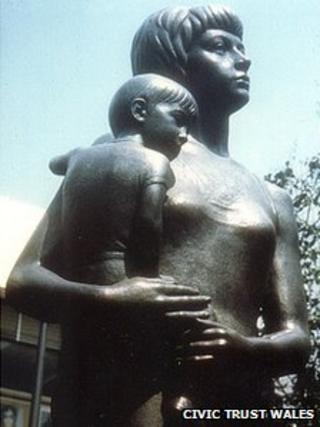 A popular statue that was removed from a Lancashire town during redevelopment work will take "pride of place" in its new centre.
Blackburn's Mother and Child was removed from Lord Square in 2007 while the work on the Mall shopping centre took place.
The Robert Thomas sculpture will return in a new position in Cardwell Place.
Blackburn councillor Dave Harling said he was "delighted" it was returning to the town.
The statue was placed in the square in 1974 but has been in storage since it was removed in 2007 to make way for the new shopping centre.
Mr Harling said "people have been asking about when it would be returning so it is fantastic news that it will be taking pride of place in our new town centre scheme".
"I am delighted that this sculpture will be returning," he said.
A council spokeswoman said the statue would be in place "from next week" and that an unveiling ceremony featuring the sculptor's widow Mary Thomas was being planned for later in the year.
The Welsh sculptor died in 1999.