Ron Hill receives Freedom of the Borough of Hyndburn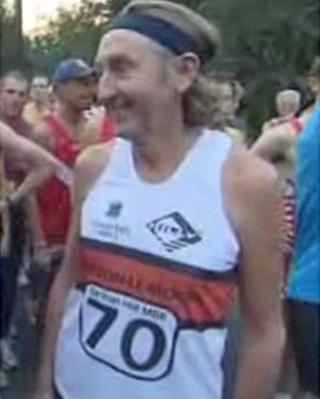 A former Olympic marathon runner has received a civic honour in recognition of his successful athletics career.
Dr Ron Hill, 73, was born in Accrington and said he was "very proud" to receive the Freedom of the Borough of Hyndburn.
He has competed in three Olympic Games, won gold at the European Championships in 1969 and at the Commonwealth Games a year later.
The ceremony took place at the town hall in Accrington and was followed by a social run up a local hill.
Dr Hill said: "I've never been honoured in this way before, so to come to the town of my birth and receive this is magic."
He is still a member of Accrington Grammar School Old Boys and maintains links with his old running clubs, Clayton Harriers and Accrington Road Runners.
He became the first British runner to win the Boston marathon and in later years went into business, setting up a sportswear company.
Council leader Miles Parkinson said: "What better year than 2012 to award Ron Hill, former Olympian and legendary marathon runner, the Borough's highest honour?
"We're so proud of Ron, he's a local lad, he's a sporting hero and a true inspiration to all who are lucky enough to meet him.
"He's a great ambassador for sport and a real gentleman, and a well-deserved recipient of the Freedom of the Borough."