Hesketh Bank fracking rig protesters guilty of trespass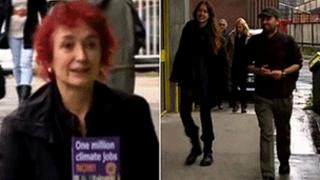 Anti-fracking protesters who halted test drilling by invading a site have been found guilty of trespass, assault and obstruction charges.
Three Frack Off group members attached themselves to a gas extraction rig near Southport, Merseyside, in November.
Edward Lloyd-Davies, 39, and Lauren Pepperell, 26, both of Brighton, were given two-year conditional discharges.
Barbara Cookson, 61, of Liverpool, received a 12 months conditional discharge.
During the trial, security guard Patrick McKenna told the court he grabbed hold of Lloyd-Davies who struck him with his arm, while Cookson held on to his hand.
Cookson and Lloyd-Davies were found guilty of aggravated trespass, assault by beating and obstructing a person engaged in a lawful activity.
Pepperell was found guilty of trespass and obstructing a person engaged in a lawful activity.
All three were ordered to pay £750 in court costs.
They had been protesting at a site in Hesketh Bank operated by energy firm Cuadrilla which was given a licence in 2008 to extract gas by pumping water, sand and chemicals into shale rock at pressure.
It coincided with the release of a report commissioned by Cuadrilla which found it was "highly probable" that shale gas test drilling triggered two earth tremors near Blackpool.
The study also said the "likely cause" of the quakes was an "unusual combination of geology at the well site" and said conditions which caused the minor earthquakes were "unlikely to occur again".
However, Frack Off claims the process is environmentally dangerous.