Thousands at Preston docks for Riversway Festival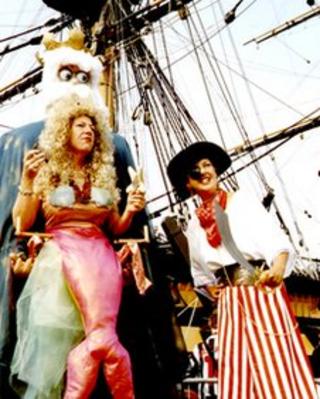 Thousands of people have celebrated the 20th Riversway Festival in Preston.
The annual festival was first set up as part of the 1992 Preston Guild celebrations which are held every 20 years in the city.
Royal Navy vessel HMS Charger was greeted with a performance of pipe music at the marina earlier in a ceremony to mark the people of Preston officially adopting the vessel.
Activities included a charity dragon boat competition and dinghy grand prix.
Organiser Tim Joel said crowds lined both sides of the marina to see the 20m (67ft) long HMS Charger.
He said: "It was such a spectacular sight particularly with so many people cheering it as it came ashore. There was a real buzz about it."
The event also featured more than 60 guest boats sailing into the docks, live music and waterside theatre with a giant metal whale and Greek god Neptune meeting mermaids and puppet fishmongers.
It culminated with a special "Sing the Docks" performance bringing more than 400 singers together.
Preston Guild has been held every 20 years since King Henry II granted the town the right to have a Guild Merchant and gave the town its first royal charter.
It is the only Guild celebration still held in the UK.