Preston Pals war memorial unveiled at Preston station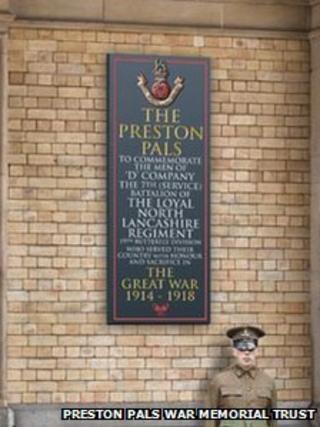 A memorial has been unveiled to honour a group of Lancashire World War I soldiers, many of whom died in battle.
The Preston Pals, as they were known, departed from Preston railway station in 1914 to join the Army.
Businessman Andrew Mather said he had made it his mission to "commemorate and celebrate" all of the Pals after learning there was no memorial to them.
He helped raise £10,000 for the plaque. He said: "Instinctively, as a Preston lad, I felt it had to be done."
Mr Mather, 74, read a letter in the Lancashire Evening Post from Rita Finley, whose husband's grand-father died in the Battle of the Somme.
A prominent war memorial has now been installed between platforms three and four at Preston railway station.
Lancashire's Lord Lieutenant, Lord Shuttleworth, officially unveiled the plaque, which was produced by sculptor and letter carver John Shaw, with Mrs Finley among a crowd of about 200 there to see it.
Mr Mather said: "It was atmospheric. I'm very happy it is done and accomplished and I can get on with other things now.
"Rita was very pleased to witness it too."