Businesses hit by Preston sewer works compensated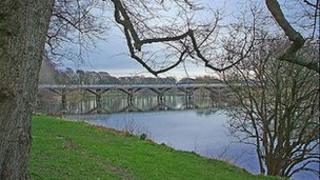 Businesses affected by long-running roadworks in Preston have been paid a share of nearly £1m in compensation by United Utilities.
A £114m scheme to upgrade the sewerage system has led to disruption around Watery Lane for the past 12 months.
United Utilities is building a huge sewage tunnel beneath the city centre to improve drainage and water quality.
It will mean the sewer can capture more rainwater, preventing sewage overflowing into the River Ribble.
Work to construct the tunnel, which at 4.8m x 3m (16ft x 10ft) is wide enough to drive a car through, has led to congestion for drivers and businesses in the Watery Lane area.
Businesses affected by the works have now been compensated.
Victorian sewers
Dave Kenton from Cartridge World said he had seen a fall in business since the work began.
"From the moment the work started, we saw a 25% drop in footfall and that equates to the same in sales gone, just wiped out, which has never really recovered at all.
"Finally, the big green hoardings have disappeared and we can see the shops quite clearly now, but other than that it still looks like downtown Monaco with red and white bollards everywhere and workmen digging up the road."
Brian Edwards, project manager at United Utilities, said: "We have paid out nearly £1m in loss of profit payments in this projects so we have been very sympathetic to businesses.
He said the new sewer system will help clean up the River Ribble and beaches along the Lancashire coastline from Southport to Blackpool.
"The sewer system in Preston is a combination of surface water and foul water. That means that the water from your kitchens and bathrooms goes down the same sewer as that from the run off from the roofs and roadways," he said.
"These were built in Victorian times and it was just not practical to size them big enough to cope with the heaviest rainfall events
"They were built with overflows into water courses and as a consequence the river isn't as clean as it ought to be in 2012."He said workers were on the project 24 hours a day to try and get it finished as soon as possible.