Central Blackpool's £50m new housing scheme announced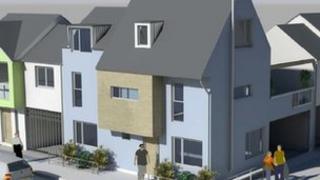 A £50m housing scheme creating a "new neighbourhood" in the heart of Blackpool has been unveiled by Blackpool Council.
Four hundred homes will be built on land surrounding Seasiders Way close to Blackpool FC's stadium on Bloomfield Road by developers Hollinwood Homes.
The site was earmarked for a £100m college but the Learning Skills Council ran out of money and it fell through.
Blackpool Council's Steve Matthews said it was a "significant development".
'Character and scale'
The head of strategic housing said it would bring opportunities to the resort with "a commitment to employing local people and creating apprentice roles".
The project is on the area of land between Central Drive and Tyldesley Road; Princess Street and Rigby Road, to the west and east of Seasiders' Way.
The council owns the majority of the land but said it would be in talks with owners of houses on Blundell Street, Princess Street, Tyldesley Road and Rigby Road about the possibility of purchasing properties.
Mr Matthews said: "It is a great location so close to the town centre, the amenities and the beach.
"There are not many schemes of this character and scale across the country now so close to the town centre."
Buildings including the Blackpool Mecca, a cult venue for Northern Soul devotees, were demolished in 2009 to make way for a new Blackpool & The Fylde College campus.
However, the college was unable to get funding after the demise of the Learning Skills Council.
The development will take 10 years to complete. It will start in 2013 and the first 70 homes should be built by April 2014.