Brockholes birdwatcher hide suffers arson attack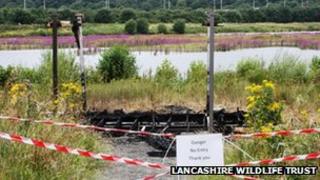 A £14,000 birdwatching hide has been destroyed in an arson attack in Lancashire.
Staff at Lancashire Wildlife Trust said they were "horrified" by the "selfish" attack at the Peninsular Hide, at Brockholes near Preston.
Firefighters tackled the blaze in the early hours of Sunday but were unable to save the structure.
Nearly 200,000 people have visited the reserve and visitor village since it opened just over a year ago.
General manager Kath Knight said: "It's very disappointing that this is the way that some members of the local community abuse the site and they are spoiling it for themselves as well as their friends and family. These people are selfish."
Ms Knight said that all of the hides at Brockholes have been subject to fires, broken windows, graffiti and other anti-social behaviour.
"As a nature conservation charity we cannot afford this kind of attack," she said.
"These hides have been funded by individuals wanting to do their bit for wildlife and now we have to go to them and explain that the hide has been destroyed."
Police have increased patrols at Brockholes since the attack and staff are asking volunteers and members of the public to be extra vigilant.