Blackburn mosque teacher guilty of assaults on boys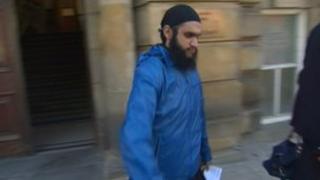 A man who taught children to read the Quran at a mosque in Blackburn has been found guilty of beating two of them.
Kurram Hussain, 26, of Granville Road, Blackburn, Lancashire, had denied two charges of assault by beating, relating to two boys aged 10 and 11.
He was accused of three charges of assault but one was dropped when a witness failed to turn up at Blackburn Magistrates' Court.
Hussain is due to be sentenced at the same court on 17 August.
The court heard Hussain taught schoolchildren aged between five and 12 years old how to read the Quran every weekday evening.
'Slapped around head'
But when they talked amongst themselves or misbehaved, he used physical violence.
The first boy to give evidence against him said he had been assaulted by Hussain since 2008.
He said he had been slapped around the head, hit on the hands with a pencil and called names.
The second witness said they were regularly punished and that he had seen Hussain kick one of the boys in the back.
In mitigation, Hussain admitted he was a strict disciplinarian and when the boys misbehaved he would give them detention.
He said he followed the mosque's strict zero tolerance to violence policy.