Same Sex Dancing Championships come to Blackpool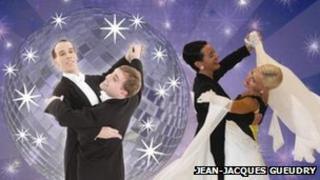 Blackpool is "thrilled" to be staging a new international ballroom dancing championship, the managing director of Marketing Blackpool has said.
The Same Sex Open Dancing Championships will be held in October at the Winter Gardens in the resort.
Britain's Got Talent finalists the Sugar Dandies are hosting the event.
Bradley Stauffer-Kruse of the Sugar Dandies said: "Blackpool is a wonderful world stage for dancing and a great Gay and Lesbian resort..."
'Inspire same sex couples'
Natalie Wyatt of Marketing Blackpool said she was delighted the championship was coming to the town, particularly after the recent announcement that BBC One show Strictly Come Dancing was not holding its final at Blackpool's Tower Ballroom this year.
Ms Wyatt said: "I'm sure it will be a hugely popular event and one many people will want to enjoy."
Couples from as far afield as France, Greece and Hungary will compete in the ballroom dancing championships on 27 October in the Spanish Hall as well as dancers from all over the UK, said Mr Stauffer-Kruse.
He said technically there was no difference in same-sex dancing: "We want to show two men and two women can dance together competitively.
"Most good ballroom dancers know how to take the lead and how to follow."
"We're hoping to inspire same sex couples to take up ballroom dancing," Mr Stauffer-Kruse added.