Lancashire 'Olympic' athletics club wins £2m investment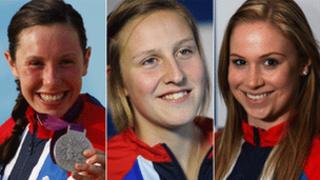 A Lancashire athletics club which is home to three Olympic heroines has been promised £2m in council investment.
Samantha Murray, Holly Bleasdale and Sophie Hitchon all train at Blackburn Harriers and Athletics Club, which meets at Witton Park in the town.
Blackburn with Darwen Borough Council has pledged to improve facilities at the park, working with the club.
It is also planning to hold a civic reception for the three women to recognise their achievements.
The council said the details of the reception will be confirmed in the next few weeks.
Samantha Murray won a silver medal in the modern pentathlon; Holly Bleasdale qualified for the pole vault final, finishing in the top six in the world and Sophie Hitchon qualified for the hammer final, setting a new British Record to get there.
'No limits'
Council leader Kate Hollern said: "These young people are superb role models.
"As a borough we need to do everything we can to make sure their achievements are celebrated and help inspire the next generation.
"They should also influence our approach to sports in the borough."
Detailed plans about how the £2m will be spent are expected to be announced before the end of the year.
George Davies, secretary of Blackburn Harriers and Athletics Club, said: "At such young ages, to achieve what they have done is nothing short of remarkable.
"Everybody should take heart from the fact that these talented young women, who have become Olympians, did so through hard work, determination, commitment and ambition.
"They have proved that it can be done. There are no limits to what can be achieved.
"It's great to be so closely involved in exciting plans for the future of athletics in the borough."