Carol Ann Duffy Pendle Witch Trials poem placed on trail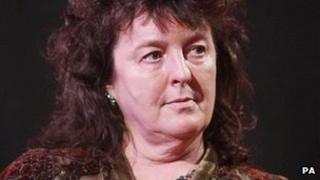 A poem by Poet Laureate Carol Ann Duffy is being placed along a Lancashire trail to commemorate the county's infamous witch trials.
The Lancashire Witches will be put on posts along the 51 mile (82 km) Witches Walk from Pendle to Lancaster.
The poem was commissioned to mark the 400th anniversary of the 1612 Pendle Witch Trials, which saw 10 people hanged at Gallows Hill in Lancaster.
Ms Duffy said the echoes of those persecuted were "audible still".
The installation of the posts has begun and is expected to be completed by October.
The poem forms part of the North Lancashire arts organisation Green Close's programme of artistic events to mark Saturday's anniversary of the trials.
Its 10 tercets will be placed on waymarkers, designed by Manchester artist Stephen Raw, along the newly laid-out Witches Walk, which skirts around Pendle Hill where those persecuted in the trials lived.
The markers will also feature the name of one of those hanged.
Twelve people arrested in the Pendle area stood trial for murder by witchcraft during the 1612 witch trials at Lancaster and York Castles.
Ten were found guilty and hanged, one died while awaiting trial and one was found not guilty.
The trials became famous when the clerk of the court Thomas Potts published an account of what happened in a book called The Wonderfull Discoverie of Witches in the Countie of Lancaster.
The Poet Laureate said, in writing the piece, she had been "struck by the echoes of under-privilege and hostility to the poor, the outsider, the desperate, which are audible still".
Sue Flowers, artistic director of Green Close, designed the footpath and said there had been "a real momentum with this project".
"It's an incredible landscape; this walk is about connecting communities across Lancashire and connecting ourselves to history and a sense of place, people have really related to that," she said.
Other events taking place to mark the anniversary of the trials include a Pendle Witch Walk to the summit of Pendle Hill and the launch of a sculpture trail in the surrounding area.