Drug user with anthrax infection dies in Lancashire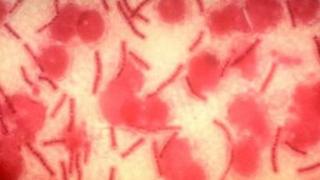 A drug user has died in a Lancashire hospital after being infected with anthrax, the Health Protection Agency (HPA) has said.
It is understood the victim is a man from north-west England. The HPA said the death happened in Blackpool and the person had injected drugs.
It is the eighth case recently reported in several European countries.
NHS Blackpool said heroin, or a contaminated cutting agent mixed with it, was the likely source of infection.
But the HPA said it was "unclear" whether the case in Blackpool and another case in Lanarkshire in Scotland - which was confirmed at the end of July - were linked to the European outbreak.
HPA staff are visiting drug treatment centres to make people aware of the risks.
Further cases 'likely'
Dr Dilys Morgan, an expert at the HPA, said: "It's likely that further cases among PWID (people who inject drugs) will be identified as part of the ongoing outbreak in EU countries."
Anthrax is an acute bacterial infection most commonly found in hoofed animals such as cattle, sheep and goats.
It normally infects humans when they inhale or ingest anthrax spores.
There have been seven confirmed cases of the infection since June - one in Scotland, three in Germany, two in Denmark, and one in France.
These are the first cases of anthrax among drug users in Europe since an outbreak in 2009-10 which saw 119 cases in Scotland, five in England and two in Germany.
Fourteen people died in that outbreak.
A report into the outbreak, published last December, concluded the method of anthrax contamination was unknown but it could have come from contact via a single infected animal or contaminated hide, somewhere in transit between Afghanistan or Pakistan and Scotland, probably in Turkey.
It said: "There remains a risk that at any time, pathogen contaminated heroin could be imported to the UK again, causing another outbreak of anthrax or similar infection."
Although the two outbreaks have not officially been linked, European health experts said the recent cases could have come from the same batch of contaminated heroin in the 2009-2010 outbreak.
An alert about an ongoing outbreak of anthrax among drug users was circulated to NHS hospitals at the end of June.