Preston Guild: Second proclamation made in city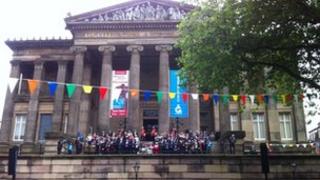 Crowds gathered to watch the second of three proclamations of Preston Guild being made in the city.
The Mayor of Preston Carl Crompton made the formal announcement from the steps of the Harris Museum at 10:30 BST.
The ceremony was the second of three held on consecutive Saturdays before the start of the guild festival, which is only held once every 20 years.
The announcement, which dates back to Medieval times, is used to summon all those wanting to attend the event.
The 10-day festival is set to begin on 31 August and includes events such as street theatre, musical performances and a city procession.
Traders' updates
An outdoor concert will also be held in Avenham Park, featuring Spanish tenor Jose Carreras and Welsh mezzo soprano Katherine Jenkins.
The park will also be the venue for the Vintage Guild Weekend, which includes fashion shows, music, art and food.
The first guild gatherings were occasions to update membership of the guild merchant without which traders, craftsmen and merchants could not do business in Preston.
Its first reliably recorded celebration was in 1397, when it was already believed to be more than two centuries old.
These gatherings for renewing membership were infrequent and it became accepted they were needed only once in a generation.
As a result, from 1542, Preston Guild took place every 20 years.