Fake Kommissar vodka in circulation in Preston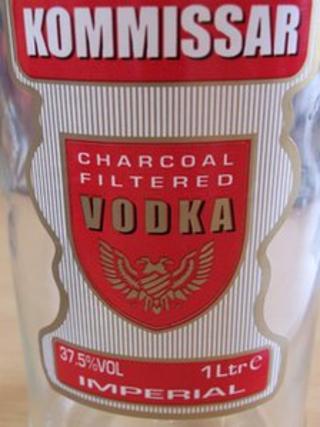 People in Preston are being warned to look out for counterfeit copies of a brand of vodka after someone who drank it became violently ill.
Analysis of a bottle of the fake Kommissar vodka handed to Lancashire Trading Standards revealed it had been made with industrial alcohol.
Lancashire Police have joined the watchdog to warn people over the dangers of drinking bootleg alcohol.
Anyone who suspects they have bought it is urged to contact Trading Standards.
'Severe injury'
Insp Andrew Proctor, of Preston police, said: "Drinking bootleg alcohol can be very dangerous as it is extremely strong and can include ingredients not at all intended for human consumption.
"Drinking it could not only lead to anti-social behaviour but also severe injury."
Councillor Albert Atkinson, deputy leader of Lancashire County Council, said: "Kommissar is a legitimate brand of vodka but a fake version is also in circulation so we're asking people to be careful.
"We are committed to stamping out food fraud in Lancashire and ensuring that illegal and potentially dangerous products are not sold in our shops.
"Products such as these not only harm legitimate trade but could also be very harmful to someone's health.
"If you think you may have bought this or any other fake vodka please don't drink it, call Trading Standards."