Adoption Matters North West's 65-mile charity walk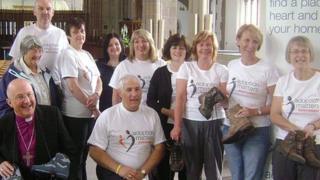 Campaigners in Blackburn have said nearly 500 children in the North West have been waiting for over two years to be adopted.
Adoption Matters North West has been raising awareness of the issue on a five-day, 65-mile walk between Blackburn and Chester Cathedrals.
Walkers stopped off along the Leeds-Liverpool and Shropshire canals to hold events highlighting the issue.
Norman Goulding from the charity said more children are coming into care.
Nationally, 4,000 children are waiting to be adopted.
Mr Goulding said: "For many children there has been a legacy of abuse and neglect. Often it's a story of courts and social services.
"Recently that problem has been highlighted as more and more children come into care."
Five years ago, the relevant Blackburn and Chester Dioceses adoption services came together to create a more effective approach to the problems and formed Adoption Matters North West.
Isolated
Hems de Winter has recently completed a half-marathon for the cause and was about to set off on the four-times longer Blackburn to Chester walk.
"We've been very lucky and have three fantastic kids," he said, "but I know the difficulty there can be conceiving children and this charity does change lives."
Hems also said that any events underlining the plight of youngsters looking for a family is worth doing.
"I think anything that can raise awareness of this situation, of telling people how long these kids are in care and of the numbers involved has got to be a good thing."
One of their presidents, the Right Reverend Nicholas Reade, lamented the increasing difficulties in family life that can lead to children becoming isolated.
"It is a great sadness that families break down," he said. "But I do see other examples of people working to build up family life in general and to become a parent of adopted children is a very Christian thing to do."
Norman Goulding said that adopted children settling into in a new home quickly find themselves being treated as one of the family.
He said: "Most parents would say they treat each child the same. As that bond (between parent and child) grows, so that love grows."
Joe Wilson presents the faith programme on BBC Radio Lancashire from 06:00 each Sunday.