Yousaf family shooting in Pakistan: PM backs justice fight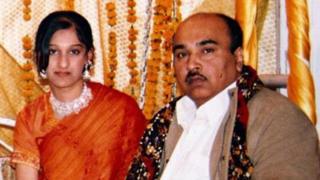 Prime Minister David Cameron is backing the fight for justice for three members of a Lancashire family shot dead by gunmen in Pakistan.
Mohammad Yousaf, 51, his wife Pervez, 49, and daughter Tanya, 23, were killed in a cemetery near Gujrat in May 2010.
No-one has been brought to justice for the murders of the family, from Nelson.
In a letter to Pendle MP Andrew Stephenson, Mr Cameron said he had asked ministers to raise the issue with the Pakistan High Commission in London.
Mr Stephenson wrote to Mr Cameron on the second anniversary of the shootings of Mr and Mrs Yousaf and their daughter Tanya, a mother of two young children.
'Political agenda'
He said: "[Mr Cameron] passes on heartfelt condolences to the family, relatives and friends of [the Yousafs] and talks about how he has made contact with foreign and commonwealth office ministers... and asked them for an update and to make further representations to the Pakistan High Commission in London."
The Conservative MP said he hoped the prime minister's intervention would bring those involved to account.
Mr Stephenson said: "Hopefully this will be the exact kind of pressure we need to keep this case at the top of the political agenda."
Pendle councillor Eileen Ansar, who married Mrs Yousaf's cousin, said his intervention "has to be a good thing".
"It is really good the prime minister is taking a personal interest in the case.
"At least it shows someone cares," she said.
'Heart-wrenching'
"We are no nearer to justice as we were when it happened almost two-and-a-half years later."
She said the killings, which took place while the Yousafs were attending a family wedding, were "heart-wrenching" for the family.
"It tore the heart out of the family," said Mrs Ansar.
A spokesman for Number 10, the prime minister's office, said they did not comment on Mr Cameron's personal correspondence.
The murders were allegedly triggered by a divorce between Mr Yousaf's son and a girl from a nearby village.
Two of the suspects, brothers Shiraz and Naveed Arif, were granted pre-arrest bail in Pakistan but failed to attend court and went on the run.