Olympic athletes to get reception in Blackburn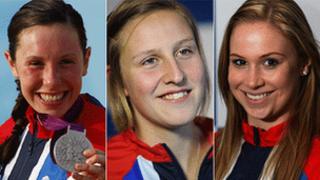 Three Olympic athletes - including a silver medallist - are to get a "heroes' welcome" in a civic reception to be held in Blackburn.
Blackburn Harriers' Samantha Murray, Holly Bleasdale and Sophie Hitchon all featured for TeamGB at London 2012.
The ceremony at Blackburn Town Hall on 27 September will a celebration of the athletes and their club.
Murray gained the Harriers' only medal at the London games, taking silver in the modern pentathlon.
Her medal - on the closing day of the Olympics - was Great Britain's 65th and final medal of the Games.
Hitchon earned a new British record en route to the hammer final, while Bleasdale finished sixth in the pole vault.
All three represent Blackburn Harriers in national competitions.
'Extremely proud'
Council leader Kate Hollern said the ceremony was "an opportunity to thank the club for all their work and support in helping these young athletes rise to compete on an international stage".
"We are so proud of the Blackburn Harriers and their Olympic athletes and I'm delighted we can start looking forward to giving them a heroes' welcome like the true champions they all are," she said.
"[The club] is a vitally important part of our community and we are delighted to welcome them to the town hall."
She said the event would also be a chance to "discuss our vision for athletics provision in the borough and our ambition to inspire future generations of local athletes".
Blackburn Harriers' chairman Tony Wood said the club was "extremely proud of our three Olympians".
"Their talent and dedication has allowed them to achieve the ultimate in the sport of athletics; being able to represent your country in an Olympic Games.
"We hope in some way we have helped them but also that their achievements will be a beacon of light to all those youngsters out there who can use Holly, Sophie and Samantha as role models to try and emulate."