Morecambe Bay's rivers win £1m boost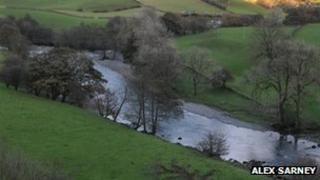 More than £1m is to be spent improving the rivers around Morecambe Bay.
The Environment Agency funding will tackle the causes of water pollution in the rivers and tributaries flowing into the area.
It is hoped this will help to improve the quality of water for wetland wildlife.
The programme, called Source to Sea, is a partnership between the RSPB, Lune Rivers Trust, Cumbria Wildlife Trust and Morecambe Bay Partnership.
The Arnside and Silverdale AONB Partnership is also involved, with support from the Environment Agency, Natural England and the Forestry Commission.
Wildlife 'lifeline'
The RSPB said water quality of the rivers in Morecambe Bay had been affected by pollution from land and river channel modification, which has also hindered fish movement.
Tim Youngs from the Source to Sea programme said: "By tackling water quality issues, from the source of a watercourse all the way down to the sea, we will work together to take an holistic approach to water catchment management, restore priority habitat on a landscape scale and which, in turn, will provide a lifeline to several priority species including Atlantic salmon, European eels and curlews."
Jerry Gallop, Environment Agency Programme Manager for the Catchment Restoration Fund, said: "These projects will restore a more balanced approach to land and water management that sustains people and wildlife."