World Fireworks heat in Blackpool off due to winds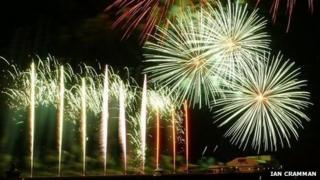 The second heat of the World Fireworks Championships in Blackpool has been cancelled due to strong winds.
Organisers of the event have put a halt to France's display after wind speeds of 42mph were recorded.
Chris Pope from Marketing Blackpool said it was disappointing but the health and safety of the public was their main concern.
A decision has not been made on when France will perform in the competition which takes places from the North Pier.
The French team was due to display at 20:30 BST.
A total of three teams are taking part in the championships which attracts up to 60,000 spectators during each week of the competition.
Canada performed in the opening heat on Friday and Australia is scheduled to perform on 21 September.
The winner will be announced on 28 September at an event featuring a fireworks display from a non-competing team, Kimbolton Fireworks.