Driver jailed for causing Frank Fielding Rishton road death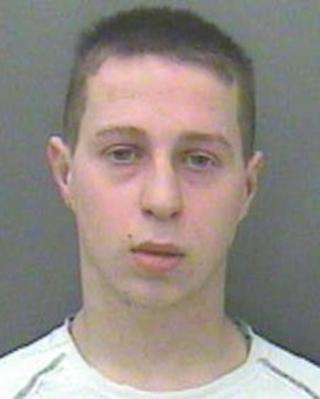 A man has been jailed for three years for causing the death of an elderly man who was struck by a car in Lancashire.
Frank Fielding, 80, suffered serious injuries when he was hit as he crossed High Street, Rishton, last October and died later in hospital.
Michael Yeates, 20, of Trent Street, Longridge, had previously admitted causing death by dangerous driving at Preston Crown Court.
He was travelling at 47mph in a 30mph zone in the town centre, police said.
He was given a three month sentence, to run concurrently, after admitting a fraud by false representation charge which related to him obtaining car insurance for a 1.2 engine when he had a 1.6 engine in his car.
Yeates was also disqualified from driving for five years and ordered to take an extended test before he can return to the wheel.
Mr Fielding, a widower and grandfather-of-five, was described in court as a "sprightly man" and an "active member of the community" who would cut the grass on the lawns at the local Conservative Club.
The court heard Yeates tried to blame Mr Fielding for the crash by claiming he ran into the road.
At the crash scene, he said to paramedics: "Why did he run out? He hesitated and he just ran out... he was in the middle of the road."
He only changed his story when he was confronted with CCTV footage of the incident and expert evidence about his speed.
Sentencing Yeates, Judge Jonathan Gibson said: "No sentence I can pass can ever compensate Mr Fielding's family for their very great loss.
"What you did highlights the very grave dangers posed by driving at excessive speed and the catastrophic consequences that can result from that and a failure to observe the road ahead.
"Your driving was plainly irresponsible and the consequences beyond description."
Sgt Dave Hogarth from Lancashire Constabulary said: "This is a tragic case for both families and highlights the stupidity of reckless speeding, which played a huge part in this tragic incident.
"The terrible consequences of this collision should serve as a strong warning to people not to speed."