Barn owl taken during raid on Great Altcar aviary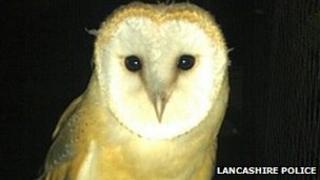 A barn owl has been stolen by thieves in a raid on a West Lancashire property.
The three-month-old bird was taken from a private aviary in Great Altcar in the early hours of 14 September.
Police said the theft had followed a break-in at a nearby farm on Wood Lane, where a set of left-handed golf clubs were also taken.
PC Stuart Mansfield said the owl's owners were "understandably upset" by the theft.
He said the thieves would be likely to stand out because "if someone was to bring home a barn owl or offer one for sale, [it] would likely arouse some suspicion".
He added that there were worries about the health of the bird due to its age.
"The owners are understandably upset, especially as the owl is still being hand fed, so they are concerned about the welfare of the bird," he said.
"I would appeal to anybody with any information about this burglary to come forward as we need to reunite it with its rightful owners."
A spokesman for the Royal Society for the Protection of Birds (RSPB) said barn owls were much more common in captivity than in the wild and could be held without documentation from birth, though sale or commercial usage of them required a certificate.
He added that they could be bought for "less than £50, so are not expensive".