Fishermen's £500 permit charge to cockle in Ribble Estuary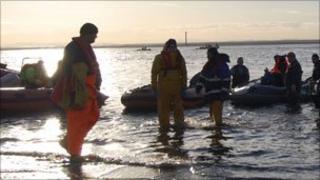 A new £500 permit charge for fisherman comes into force when cockle beds at the Ribble Estuary re-open in October.
The Foulnaze Bank beds were closed last November after 26 coastguard rescues of ill-equipped and unlicensed boats during a two-month cockle "gold-rush".
Cockling resumes for eight days after the success of re-opening the beds in August under tighter regulations.
Although unhappy with the £500 levy, Lytham fisherman Paul Sumner said it "worked well and was safer" in August.
The new restrictions issued by the North West Inshore Fisheries and Conservation Authority (NWIFCA) came into force during the eight days of opening the beds in August for the first time since closing them in November.
Under the regulations, cockles must be landed at Preston marina, all boats must have safety equipment and all boat skippers are required to have the necessary qualifications to operate a boat in darkness.
The cockle beds will be open for four days from 1 October and then 15-18 October.
Mr Sumner, who has been a fisherman for more than 30 years, said to cover the costs of the permit it was essential the NWIFCA, who is in charge of the beds, opens beds in the winter months.
Dr Stephen Atkins, chief executive of the NWIFCA, said the safety of cocklers was its priority.
"We will have fishing officers out on the Foulnaze Bank on each of the fishing tides and make sure only people who have our permits are there to fish."