Blackpool fails to meet clean beaches standards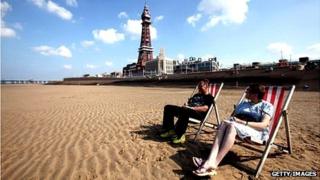 Two Blackpool beaches failed to meet the Environment Agency's standards for clean water this year.
Blackpool North, Blackpool South and Cleveleys, also on the Fylde Coast, did not meet the mandatory standard.
The data comes two months after a summit of United Utilities, Blackpool Council and the Environment Agency looked at ways to clean the coastline.
Gary Coleman, Blackpool's cabinet member for regeneration, said water quality was a key priority.
There was better news for the council with regard to Blackpool Central beach which has passed this year after failing in 2011.
Resorts have two years to improve their water quality before the Environment Agency introduces tougher standards in 2015 - which could see failing beaches having to display warning signs.
A consistent series of poor ratings in Blackpool over the years led to The Turning Tides Summit 2012 which aimed to help groups to work together to clean up the Irish Sea and the rivers that feed it.
Mr Coleman said the summit showed that no single body could tackle the problem in isolation.
"The quality of our bathing waters is a key priority for the council," he said.
"It's a difficult challenge but its one we are facing head on," the councillor added.
Heavy rain
Mr Coleman said he had been encouraged to see local businesses getting involved in cleaning up the coastline.
"The recent beach cleans organised by the Sealife centre has seen hundreds of volunteers take an active role," he added.
The Environment Agency is blaming heavy rainfall in the past year. During intense rain, pollution from farmland, roads, and drains is washed into water courses.
The Fylde Coast has a particular problem with slurry from agricultural land.
Three beaches in Cumbria have also fallen short.
Dan Bond, Environment Agency Bathing Waters Manager, said: "We are disappointed by these results after major improvements which have been achieved by over the last two decades."