Blackburn bungalow fire death: Victim's bank card used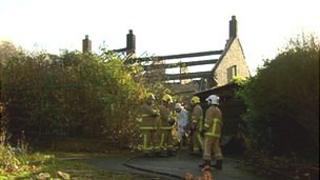 Police investigating a fatal fire in Blackburn have said someone tried to use the dead man's bank card in the early hours of the morning he died.
Christopher Proctor, 88, died in the blaze which started on Pleckgate Road shortly before 04:00 GMT on Saturday.
A 39-year-old man from Blackburn was arrested on Wednesday on suspicion of theft and is being questioned.
A man and a woman, arrested on suspicion of murder, have been released on bail.
Five others have been released without charge.
Det Supt Paul Withers said: "We believe that Christopher Proctor may have been targeted over several years by people taking advantage of his vulnerability.
"In the early hours of the morning shortly before the fire we know that someone tried to use his Nat West bank card at two cashpoints, first at the Tesco Express store on Whalley New Road at shortly before 2.15am and then a short time later at the Post Office at Brownhill roundabout at 2.25am.
"We have recovered hundreds of hours of CCTV footage and we are currently reviewing this and interviewing many witnesses.
"I am sure that someone in the community knows what has happened and I would appeal for anyone who has any information to come forward and contact us."
Mr Proctor's Nat West bank card is missing and police are appealing for anyone who finds this or anything with Mr Proctor's details on to hand them to police.